We had leftover chicken. We didn't want pasta – Saturday night we had friends over pre-theater and I made three kinds of pasta to keep the various permutations of children and adults and vegetarians and others happy. So no pasta Sunday night.
Since I had all the leftover chicken I instead decided to make more chicken and I made Maddhur Jaffrey's grilled chicken from her Quick and Easy Indian Cooking, which is the best introduction to Indian cooking there is bar none. I have never ever had a failure from it and I have never ever even struggled to make the dish or find ingredients or anything. IF you've EVER wanted to make a curry, get this book and get started.
Anyway, I then decided on a whim that we hadn't been eating enough pulses (beans, lentils, etc.) and since Grace is now a vegetarian, an extra special dahl was needed as an accompaniment. So I made one and it was fantastic – super fantastic. I also made a really nice simple onion-cardamom-coriander-fennel seed pilau to accompany it all.
Here are the recipes…
Red Dahl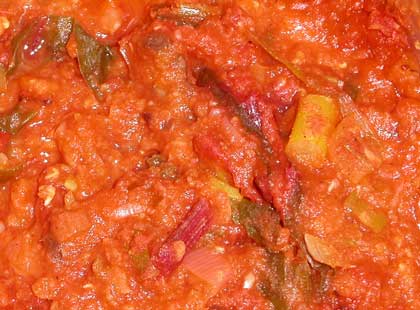 I thought about calling this Borscht Dahl since it has beets, but it only has beet tops and it isn't really beety or red enough to qualify.
1 cup red lentils

1 tbsp turmeric

4 cups water

1 tbsp lemon juice

1 leek

1 green garlic

4 cloves garlic

1 large can (28 oz) chopped tomatoes (I used Muir Glen fire roasted organic but frankly anything decent will do)

1 small green chile

2 tbsp butter

1 piece of fresh ginger about 1 1/2 inches cubed

2 tbsp rogan josht paste (I used Pataks)

1 bunch beet greens (the tops from four red beets)

About 1 tbsp salt
Thoroughly wash the red lentils in a sieve, rinsing three times. Put the water on to boil in a large pot. Add the salt and the lentils and the turmeric. When the water boils, turn it down to a low simmer and stir occasionally.
Finely chop the leek, the garlic, the ginger and the chile (but keep them all separate) and coarsely chop the beet greens. Use the whole leek, including the green leaves but trim of dead and dried out parts and make sure you wash it thoroughly!
Heat the butter in a medium frying pan until it starts to turn brown and immediately add the chile, garlic and ginger and stir and cook until it all just begins to brown and clump together. Add the rogan josht paste, turn off the heat and stir until thoroughly blended.
After the lentils have simmered for about fifteen minutes, add the leek. and stir it in. If at any time the lentils start to dry out or begin to stick and brown from evaporation or thickening add another cup of water. After another five minutes the lentils should be beginning to really soften and come apart. Keep cooking until they are thoroughly soft, adding water if necessary. Now add the can of tomatoes and the tbsp of lemon juice and return to a simmer. Stir in the ginger-garlic-paste mixture and cook for another couple of minutes.
Then serve plain or with bread or rice or whatever. I like it served on rice with a little yoghurt or raita on the side. In this case I served it on the pilau (recipe below) and with a simple yoghurt sauce made from half a bunch of cilantro finely chopped and stirred into a cup and a half of yoghurt along with a teaspoon of salt.
Fennel Seed, Cardamom Pilau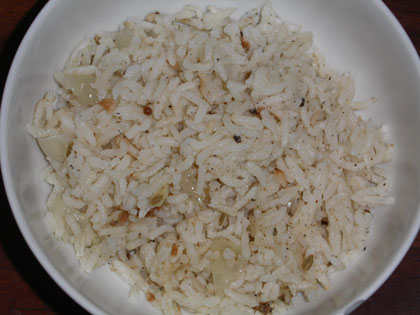 This isn't really a pilau because it isn't cooked like one but it tastes like one and is really, really easy to make if you have a rice cooker. You DO have a rice cooker, don't you?
2 cups basmati rice

3 1/4 cups water

1 tsp decorticated cardamom

1 tsp fennel seeds

1 tsp whole coriander seeds

1 tsp salt

1/4 stick of butter

1 medium onion
Set up the rice cooker and start it heating with just the butter in the bottom. Dice the onion and add it to the butter in the cooker. Add the cardamom, coriander and fennel seed. Stir everything up and let it cook in the rice cooker until the rice cooker turns itself off. Add the rice and stir it so it is coated in the butter and onion mixture. Add the water. Restart the rice cooker, put the lid on and wait for it to be finished. The resulting rice is flavorful and great with all indian food (and lots of other things, too).
You can make it in a pot on the stove if you want. Follow the same basic procedure but just gently saute the onion and seeds in the butter on low heat until translucent, stir in the rice, add the water, bring to a gentle boil and reduce to a bare simmer, cover and cook as normal for stovetop rice from there on.