Love Puffs: First ever entry for SHF (and a trip with REALLY good Indian food)
Fridays are a tough day for me to do any blogging. I often cook if we and friends are getting together. As it happens, we were going out with friends for dinner and a movie, but kids were still in need of food and so I made their dessert, an after movie snack and a Sugar High Friday entry all in one.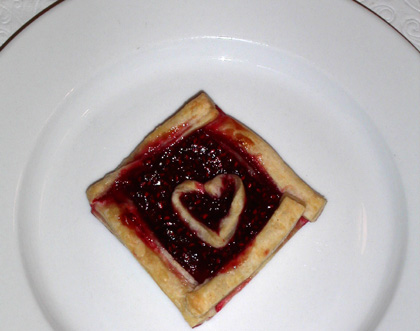 By the way while the movie was OK (Hitch – zero plot but some good gags) the meal was splendid. Perhaps the best Indian meal I've had in the US. And it cost $60 including tip and drinks for four. We had tandoori chicken with garlic naan, yellow lentil dahl and pilau. Naan and tandoori chicken were cooked after we ordered and still ready in 15 minutes. We had three crispy hot vegetable samosas, we had a silky smooth, creamy rich palak paneer (spinach and homemade whey curd cheese curry). We had the best tikka masala I've had in a while. We had Fat Tire ale on draught. All shared. They gave us some plain naan for free. Quality was exceptional for the US.
But I don't expect you all to rush out and eat there. This is in Concord, in a suburban culinary wasteland, and is actually IN the movie theater complex. This is Tandoori Chicken USA. For the adventurous there is another branch in El Sobrante in an old Dairy Queen that used to be a drive through where you could get a tandoori chicken leg, rice and coriander sauce for 99 cents. Not sure if you can anymore.
Now I freely admit I haven't tried everywhere but this place is a LOT better than almost every other Indian restaurant I've eaten at in the US. It would be middling to good in London. So what does this have to do with puff pastry? Nothing. Just needed to give them their due.
Back to pastry. I'm not up to the making my own puff pastry standard, so I used store-bought. Pepperidge Farm at that. Oh well.
[I added this note later – on reflection I didn't say enough about these puffs. First, I was in a tearing hurry. I started them at 4:45 and we had to hit the road by 5:30 with everything done and the stove off.
Second, the name. It popped into my head while I was making them when I had the idea for the hearts in honor of Valentine's Day. However, the intended recipient, my darling spouse, said, "eewwwww!" when I told her the name. But then she said I shouldn't change it even though it made her feel a bit creepy. No cream is allowed apparently.
Finally, the photo doesn't do justice to the red. There is no other red like this red. Something about using blood orange juice, the touch of acidity and slightly darker additives like cinnamon and balsamic vinegar just made it a stupendous red. After the sauce had finsished I looked at it and thought why hadn't I just used raspberry jam. But the taste convinced me. Raspberry with a hint of orange, cinnamon and something more is a REALLY good taste. So no – don't use jam. The whole recipe can be done in about 40 minutes without jam, so do it right.]
Love Puffs
Cut one sheet of puff pastry into sixteen pieces about two inches square. Butter a baking sheet and place the pieces on it. Brush them with melted butter and sprinkle on a little sugar in the middle of each (half a pinch will do). Cut the other sheet into thin strips to go around the edges of all the squares, reserving about a quarter of the sheet.
Meanwhile make the filling. Put two cups of frozen raspberries on high heat with 2/3 of a cup of sugar and squeeze in a blood orange. Add half a teaspoon of balsamic vinegar and a full teaspoon of ground cinnamon. Bring to the boil, reduce heat and cook until thickened, stirring occasionally. Let cool and spoon into the cavity of the puff pastry. Brush the edges of the puff pastry with melted butter.
Take the remaining strips, stretch them slightly and twist and fold into heart shapes and lay them on top of the filling in the resevoirs. Bake for 15 to 20 minutes in a 375 degree oven until the pastry is browning on top.