A Last Minute Achievement – Paper Chef 4
UPDATE: Next morning – cutlets still good (I in fact made two eggplants' worth) and have sent one off in a sandwich with the sauce and some spinach leaves for my lovely partner. I can now just taste the chocolate and in fact I really like these – they do need the sauce though – without it the cutlets on their own are awfully strong and a little bitter. Eggplant has a tendency to be a little biter and the unsweetened chocolate and cayenne just add to that. But with the sauce they are really, really good!
On the other hand, now that I have had a chance to see all the competition, I know that I am very much behind in the creativity stakes. Chocolate truffles with eggplant! Three kinds of dessert with eggplant. Crab and eggplant! Jump on over to The Domestic Goddess to see all the results – after you've read the rest of my posting! [END UPDATE]
I did it! I thought I wouldn't manage it – and technically I haven't since it is 9PM as I type – but I do have a completed and cooked recipe for Chilli-Chocolate Eggplant with a pomegranate-onion Sauce.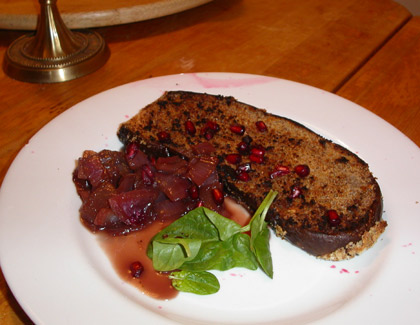 The recipe is not complex – it is basically a cocoa and chilli rub for slices of eggplant that are then breaded and fried and served with a sauce made from sliced onions, pomegranate juice and a touch of sugar. My lovely spouse has just assured me that it is quite good with the sauce – apparently it adds a lot of depth and brings out the eggplant flavor.
I do think this would probably be at least as good unbreaded and grilled instead – maybe we'll try that in a month or two…
Chilli-Chocolate Eggplant Cutlets with Pomegranate-Onion Sauce
One large eggplant, sliced lengthways into long slices about a quarter of an inch thick,
Four tablespoons good, cocoa powder
One quarter teaspoon cayenne pepper
One half teaspoon cajun spice blend
One lemon
Olive oil
Breadcrumbs
One large red Onion
Two cups pomegranate juice
One tablespoon sugar
One egg
One half cup milk
Mix the cocoa, cayenne and cajun spice together in a bowl and then rub the mixture carefully into every exposed part of the eggplant flesh. Then wash your hands – cayenne is nasty if it gets in your eyes.
Put all the eggplant in a bowl and squeeze the lemon over it. Let sit for at least an hour.
Dice up the onion and lightly sautee it in a little olive oil until soft, then add the pomegranate juice and sugar and set on very low heat to reduce until the liquid is almost all gone.
Beat the egg and milk together. Heat a little olive oil in a non-stick pan and put it on low heat. Dip the eggplant in the egg mixture, then coat with breadcrumbs and fry slowly until deep brown on both sides. Serve with the reduced sauce.