OK, OK, so I haven't given you the lemon/bergamot cake recipe. Since I didn't really come up with it and all I did was to switch bergamot for lemon, I don't really think I can take credit. By the way, bergamot oil from the skins is what is used to give Earl Grey tea it's unusual taste/smell.
Here's the link to the cookbook: The Silver Palate's Glazed Lemon Cake.
Glazed Lemon Cake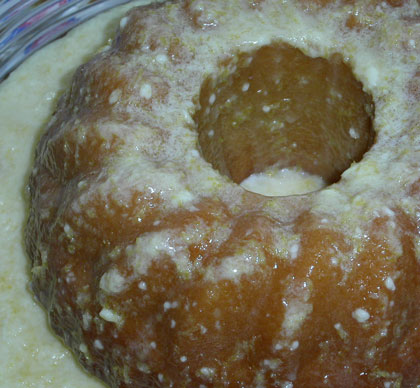 1/2 pound sweet butter at room temperature

2 cups granulated sugar

3 eggs

3 cups unbleached all-purpose flour

1/2 teaspoon baking soda

1/2 teaspoon salt

1 cup buttermilk

2 tightly packed tablespoons of grated lemon zest (or bergamot zest)(I'd go to three)

2 tablespoons lemon juice (or bergamot juice)
Lemon Icing

1 pound confectioner's (icing) sugar

1/4 pound butter at room temp.

3 (I'd use 4) tightly packed tablespoons of grated lemon (bergamot) zest

1/2 cup fresh lemon (bergamot) juice
1. Preheat oven to 325 degrees.

2. Carefully and thoroughly grease a 10-inch tube pan (I use a bundt pan and also very lightly flour it as well as grease it)

3. Cream butter and sugar until light and fluffy. Beat in eggs, one at a time, blending well each time.

4. Sift flour, baking soda and salt together and then stir into egg mixture alternating with the buttermilk. I add 1/3 of the flour, stir, 1/2 the buttermilk, stir, 1/3 the flour, stir, 1/2 the buttermilk, stir, 1/3 the flour, stir. Then mix in the lemon (bergamot) zest and juice.

5. Pour the cake batter into the pan making sure to keep it mostly even. Cook far an hour and five minutes in the middle of the oven. Experience tells me to start checking after an hour and use a toothpick, waiting for it to come out clean. It can take as long as an hour and a half sometimes.

6. Cool the cake in the pan for ten minutes, then put a plate on top (upside down) and invert the pan and plate together so the cake drops neatly onto the plate. This cake even with greasing and flour often comes apart a bit at this stage.

7. While the cake is baking, or now, make the icing.

8. Cream the butter and sugar for the icing together thoroughly. Mix in the lemon zest and juice.

9. Spread the icing evenly on the cake, using some if needed as glue to hold errant bits of cake together. Put any extra in the hole in the middle.