In common with other food bloggers, I have been getting fava beans lately in my box of organic veggies.
I actually have saved them up for a couple of weeks since I wanted to make a large batch of fava bean hummus for our party. This is what I mostly do with the beans when I am not just cooking them for dinner plain.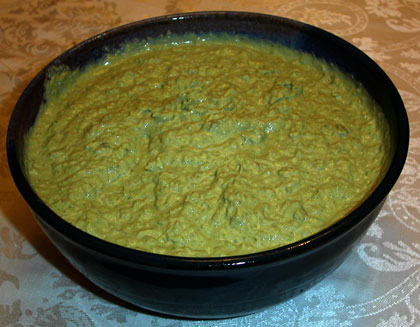 Fava Bean Hummus
Shell about three pounds of fava beans. This should leave you with a couple of cups of actual beans. Boil them for about twenty minutes in water and then rapidly cool with cold water. Peel all the larger ones (anything bigger than about 1/2 inch in the longest dimension) by squeezing one end hard and popping the bean out of the skin. Smaller ones can be left whole. Puree in a blender with a head of green garlic, half a cup of olive oil, half a cup of lemon juice and about half a cup of sesame tahini. Add salt to taste and serve with bread or crudites.