'Making good use of the things that we find…' – The Wombles
A few of my readers (OK, there ARE only a few readers 😉 ) will recognize the title of this post and have at least a vague idea what I am talking about. Everyone else will be lost. It helps if you were brought up in England and were a child during the late 60's and early 70's. Then you'd know who Uncle Bulgaria was and, in fact, what a Womble was.
I should explain. I have always had a ridiculous fondness for the Wombles because they supposedly live(d) on Wimbledon Common in South West London. I went to school across the road from Wimbledon Common and recall with absolutely no fondness whatsoever being forced to go on cross country runs in the rain along its horse paths. The rain and the horse paths are significant details as is the fact that our shower and cleaning facilities at school were inadequate.
Anyway, the Wombles was a television show populated by little furry creatures called Wombles that lived on Wimbledon Common and practiced recycling as an avocation and art form – '…making good use of the things that we find, the things that the everyday folk leave behind…'
And that is what I often find myself doing in the kitchen – making good use of the things that I find.
Our green bean plants have been doing well this spring, so the other day I made one of my favorite side dishes of all time – stir fried green beans with chopped smoked almonds. It's a great accompaniment to any meat and also goes surprisingly well with asian food if you add a little soy sauce, chili and ginger. I made these to go with the pork and apricot dish a week or two ago as well, but the beans keep coming and keep wanting to be used…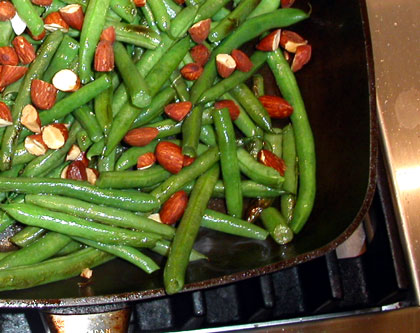 Stir-fried green beans with chopped smoked almonds
Carefully remove the ends of a pound of green beans (blue lake work well, but any kind, including runner can be used) and if necessary the side strings. Chop a cupful of smoked almonds coarsely into pieces about a third of an inch cubed. Get a good skillet or wok very hot and add a tablespoon of whatever oil you normally use to stir fry – I use olive oil because I am too lazy to buy more than one kind of oil, but canola, safflower or peanut would be better. Once the oil is nice and hot, just before it gets smoky, tip the green beans in and fry, stirring for about three minutes. Then add the almonds and cook for an additional 30 seconds. They're ready!
Another nice 'Womble'/leftover dish was made with the roast pork from a previous post. I made a pork and arugula crostini with some really nice italian bread, olive oil, arugula leaves, red pepper jelly and a thin sprinkle of salt. Here's a picture.