IMBB#8 – Lamb, apples and red, red wine
Well, for IMBB #8, the spirited edition, I fell at the last hurdle. I am posting this a day late despite getting the cooking done well in time.
But sometimes that's just the best you can do. Among the delaying factors were the first rain of the season, which means tearing out of the house at 6 in the morning and rounding up the wide range of things you have left out in the rain. In this case we are talking furniture, cushions, towels, coats, swimsuits, a CD player and a camera. Then you get to run around and check gutters and drains and that kind of thing for a while.
But all is well when you can come back inside to the thought of a dinner of leftovers from the butterflied leg of lamb marinated in red wine, rosemary, garlic, honey and dry mustard, then grilled outside (before it rained). That's dish number one for the roundup.
Here's a picture of the 'leftovers' meal – Cold sliced red wine roast lamb with thre kinds of pickles – half sour kosher dill, cornichons and kalamata olives, accompanied by absolutely fresh basil, heirloom tomato and mozzarella salad and cappellini with pesto.
To be honest, the salad is as much of a star in this leftovers meal as the lamb is and you can find out more about how to make it here: tomato, basil, mozzarella salad.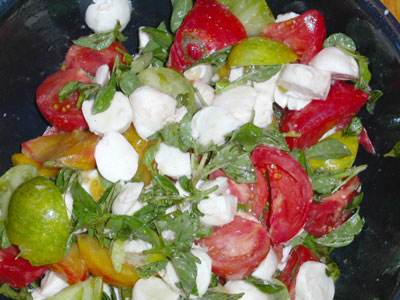 Then you get to have a pink lady apple galette (apples from the tree in the front yard) with a little brandy in the apple part, accompanied by a sauce made from raspberry sorbet (purchased) blended with a raspberry fortified wine, Framboise from Bonny Doon Vineyards. That's dish number 2.
And here's the galette surrounded by the main ingredients – pink lady apples and Bonny Doon Framboise.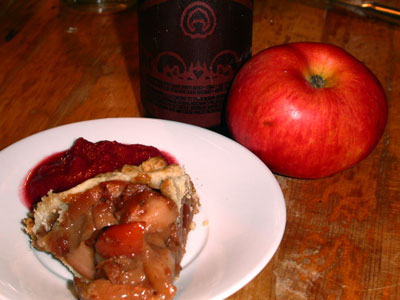 The planned dish number 3 will be taking place next weekend – that is two batches of homebrew – one will be a version of a California Steam Beer made with fresh and ground ginger – call it Bay Area Ginger Bitter. The other will be a basic American Pale Ale. I may make a non-alcoholic ginger beer/ale as well so I can make high class ginger beer shandies through the winter.
The lamb wasn't as good as I had hoped – more honey and mustard next time – but was still very good and nicely cooked despite a flare-up at the grill due to adding too much apple and grape stalk wood at the same time. That meant that the outside looked burnt but was really quite OK.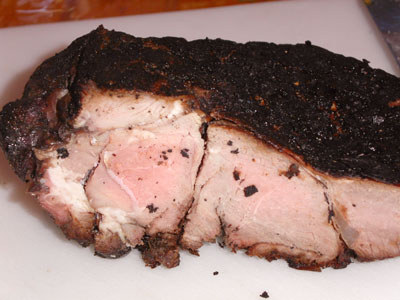 Butterflied leg of lamb marinated in red wine with rosemary, garlic, honey and dry mustard
You'll need 24 hours to do this right, but can still do it with six or so if need be. Get a 3 pound butterflied leg of lamb (3 pounds after butterflying – ie removing the bone). Prepare a sticky, gooey mess of a rub for the meat by mixing together four tablespoons of mined fresh rosemary, 8 cloves of garlic finely minced, a tablespoon of kosher or sea salt, one and a half tablespoons of dry english mustard (I like Coleman's) and three tablespoons of honey. Add ground black pepper to taste. Now, using a tablespoon, smear the sticky mixture all over the lamb, especially the inside part where the bone was. Put the lamb carefully in a one gallon ziplock bag (or a large non-reactive bowl) and pour half a bottle of decent red wine over it all. Let sit in the refrigerator for up to 24 hours. Halfway through the time period, turn the lamb over so that the part most out of the wine now gets thoroughly soaked.
When you are ready to cook, fire up the grill – any method you like will do, but probably indirect grilling over flame is the best. Note for non-grillers: roasting works just fine, too – just follow cooking instructions for any butterflied leg of lamb at this point – I would do 400 degrees for an hour and a quarter and then check for doneness every ten minutes.
I grilled directly over a mixture of charcoal and apple and grape stem wood (the nice wood on my woodpile at the moment). Things got out of control for a couple of minutes when the fat on the outside of the lamb started to render and dripped over the wood, setting it all ablaze much too quickly. So I got a very very thin layer of black crispiness on the outside of the lamb – too little to ruin it but more than there should have been. You should try for a nice rich dark brown color without any black – no roaring blazes in other words. If you know how to test meat for doneness by poking it with your fingers do it that way – I don't, so I use the cut the meat open every now and again to take a look approach. It isn't quite as pretty but it's very effective. When the lamb is done, it is done. And while cold lamb is very nice indeed (as you will see), hot lamb is glorious, so serve immediately. We made some pilau rice, grilled green beans and zucchini and a salad to accompany it along with a sauce made from the marinade by putting all the left over marinade in a saucepan with a bit more red wine and then simmering it down to sauce consistency. This technique is a good one for all liquid marinades and makes a great sauce that is guaranteed to go well with the meat.
As above, this ,amb is very good cold, too and I particularly like cold roast meat with pickles of different kinds, so here's a bonus picture of the lamb with the pickles getting ready to go on plates.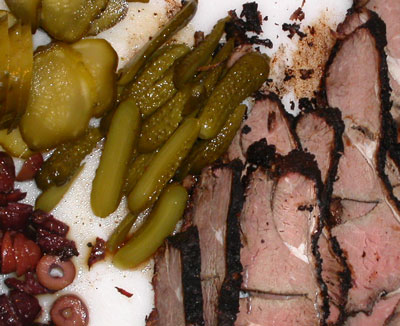 The apple galette has a longer history. Our Pink Lady apple tree in the front yard has started to really come into its own and we had to come up with something to do with it. So I took all the not so good apples and cut out the cores and the bad bits and chopped them into pieces about half an inch across. Then I cooked them with a little water and lemon juice and honey and cinnamon and a stick of butter. About halfway through I carefully stirred in a couple of tablespoons of plain flour to thicken and then let cook on very low for an hour, stirring frequently. This turned a light pink color and became the apple base for several desserts including little apple pastries, apple turnovers and the apple galette.
Pink Lady Apple Galette with Double Raspberry Sauce
Make about 3 cupfuls of the apple mixture as above except add three tablespoons of brandy at the beginning. (Alternatively, do what I did and add one and a half tablespons straight into the mixture before you put it in the pastry). Make a basic sweet pastry. I set up the kitchen aid mixer and slowly creamed together a stick of butter and about half a cup of sugar and then slowly added in two cups if flour until I had a crumbly mixture. Then I dribbled in two tablespoons of water until the dough clumped into a solid lump. Then I hand kneaded it – just a couple of smoonches together – until it was a solid ball and put it in the fridge for two hours wrapped in cling film. In the meantime I took a cup of raspberry sorbet and carefully stirred in two tablespoons of Bonny Doon Framboise raspberry dessert wine and then put it back in the freezer in a bowl.
Here's a very french country kitchen look at the main ingredients…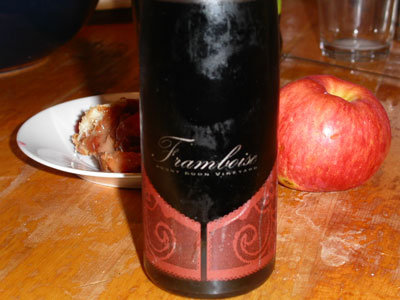 When the pastry was cold, I rolled it out into a disk and put it on a baking sheet. I heated the oven to 375 degrees. Then I put the apple mixture in the center of the disk, crimped up the edges over the apple mixture leaving a hole in the center and put it to bake for half an hour. It is done when the pastry is starting to turn brown on top. Serve in slices with a tablespoon of the raspberry sauce on the side.