IMBB Legumes: Warm French Lentil Salad and Maddhur Jaffrey's Tarka Dahl
So, I am hoping to slip in under the wire here…I made a warm French Lentil Salad of my own devising yesterday and today a lovely Tarka Red Lentil Dahl from Maddhur Jaffrey's fantastic cookbook, "Quick and Easy Indian Cooking."
I had made a stunning roast leg of lamb that I cooked for seven hours at 275 in a covered pot in the oven and I wanted something that would go with it besides the lemon rosemary rice I had already made. So I made some wok-fried bok choy with black bean sauce and this lentil salad.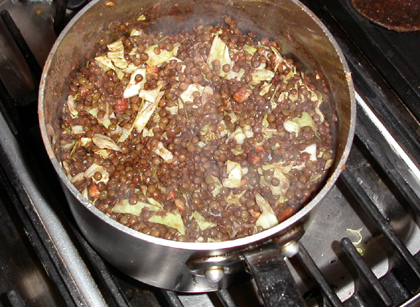 Warm French Lentil Salad
First, I carefully picked over and washed three cups of French dark lentils (Lentils de Puy) and put them to boil with plenty of water and a teaspoon of salt and a whole stalk of rosemary and a whole lemon cut up. In the meantime I diced up about a cup and a half of cabbage and finely minced four cloves of garlic. I also sliced up half a cup of dry roasted smoked almonds as small as I could. Once the lentils were cooked (45 minutes), I drained them, fished out the lemon chunks and the rosemary stick (leaving the rosemary leaves in the lentils). Then I rapidly stirred in the cabbage and left it to wilt. I heated up three tablespoons of butter in a cast iron skillet until it was browned but not yet burning, then I added the almonds and garlic and let them toast for a little while. I added them and a tablespoon of hazelnut oil, two tablespoons of olive oil and the juice of a whole lemon to the lentils and a tablespoon of balsamic vinegar. Then I added a little more salt to taste after thoroughly combining all the ingredients.
The whole meal was a delight, especially the lamb and lentils. I'll write about the non-legume parts next time.
Our whole family loves lentil dahl, especially the Tarka Dahls where a highly spiced and seasoned oil is stirred into the basic lentil or bean dish at the last minute. But this simple recipe from Maddhur Jaffrey is just the greatest. I can't recommend the cookbook enough. You will immediately be able to make better Indian food than any Indian restaurant on the West Coast.


Here's our version – only changed to double it and add garlic.

Red Lentil Tarka Dahl
Wash and pick over 3 cups of red lentils. Add them to a heavy pot with ten cups of water and two teaspoons of turmeric. Bring to a boil and turn to a low simmer covered for 40 minutes. Then stir in a tablespoon of salt. Meanwhile slice four cloves of garlic into the thinnest slices you can manage. Now heat up three tablespoons of canola oil in a small frying pan until very hot and add a quarter teaspoon of red chilli flakes, a teaspoon of cumin seeds and the garlic. Stir while they all cook until the garlic is all turning brown. Dump the whole lot into the lentil pot, watching out for very vigorous steam explosions. Stir it all up thoroughly and serve…