Non-entry for the last Paper Chef
In the blinding haste of tracking all the entries for the last Paper Chef, I never got around to posting my own non-entry. I always try to make something even though I am not allowed to participate.
I had a few ideas about what to make mostly involving curries and stews but I decided to go with a technique that a LOT of other people used: wrapping. We had egg rolls and cabbage wraps and stuffed chicken and all kinds of things. I went with the humble calzone. I don't even know if the calzone is really an authentic Italian food. To me it has always seemed a way for thousands of small pizzerias across America to present the pizza in a different form. Wrap all the toppings up in a pouch of the pizza dough…
Where I grew up in England this was called a pasty. Of course, a pasty uses shortcrust pastry and by time-honored hidebound tradition, may only have certain ingredients.
But whatever you call it, this was basically going to be a pasty made with pizza dough and filled with chicken, savoy cabbage, lemon and potato. Of course, this being California where absolutely EVERYTHING grows, I couldn't get any savoy cabbage. I used a mix of collard greens and leeks to make up.
Chicken, potato, lemon and greens Calzone
First, get a batch of pizza dough ready. I cheated. I used a premade one. Then preheat the oven to 475 degrees. Then dice up a potato as fine as you can reasonably easily. Dice up a leek. Zest a whole Meyer Lemon (or other lemon) and juice it, putting the juice aside. Chop up some collard greens. Dice up a precooked piece of chicken left over from a roast earlier in the week. Gently saute the potato and leek in a little olive oil until both are softened. Add the greens and the lemon zest and chicken and continue until all are warm. Add the lemon juice and a teaspoon of salt.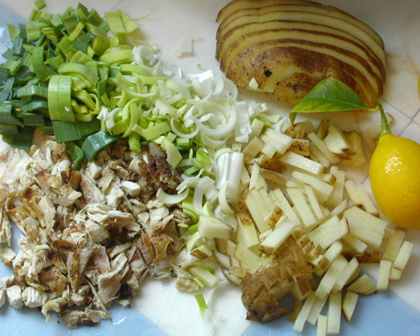 Take pieces of pizza dough about two inches in diameter and stretch them into circles. Fill the circles with as much filling as you can get in and rapidly fold the dough over them, rolling and crimping the edges so that they don't come undone. Put them on a lightly oiled baking sheet and bake for about twelve minutes until a nice brown color all over. Serve while still hot.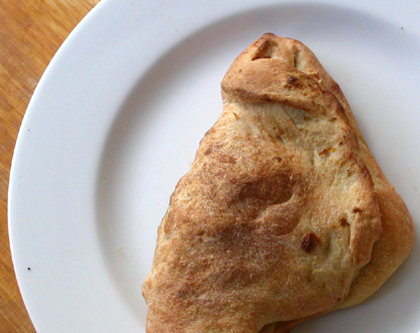 Next time I will add a little grated cheese to the mixture.