The Launch: Day 1 – Berkeley Farmer's Market
I've been nervous for weeks. I finally got to bed before 1AM for the first time this week last night. (If you didn't get an email from me about the launch it is only because I don't know your email address!) Then I got up early and zoomed over to Kinko's to make some little card handouts I dreamed up in my sleep since I failed in my aim of having thousands of lovely bookmarks printed in time. The cards looked good so I was happy.
Eventually, after loading my friend's car up with books, water, ice, pens, spare book covers, tape, sundry bits of little cooking equipment, I headed for Berkeley and arrived just in time to say hello to Robin, the cover designer who is a fantastic person and does really good, highly professional work in website, corporate identity and book cover design. Go check her out. She had already met Guy, who apparently lives at the Berkeley Farmer's Market on Saturday's. People kept coming up to him (or he would go off to see someone) with little bags of food goodies. It was sort of like tribute or something. So he helped me unload and my back thanks him. Then Ellen showed up and we finally got to get started.
Let me set the scene – it was a gorgeous day – the first true day of Summer in the Bay Area – just a touch over 80 degrees and bright sunshine. The Farmer's Market was in full swing with its annual strawberry tasting going on. We had a nice canopy and some chairs arranged in front with a microphone and speakers. We also got a great arrangement where we went on last and got to stay and sell and sign books until the market closed.
A few minutes after we got started, Stephanie showed up, she had been caught in beautiful weekend traffic and parking issues. We talked about the book and how we came to blog and how we came to cooking and about our food blogs. Then we did some readings along with a few ad hoc demonstrations. I challenged audience members to go off and find random ingredients to go with strawberries. One took me up and returned with whole raw almonds. I had come prepared. We scored a punnet of awesome organic strawberries from the market and I pulled out the greek yoghurt (from Trader Joe's), some honey, a lemon, and some decorticated cardamom seeds (translation seeds removed from hulls but still whole). I roughly chopped the almonds and layered them in the bottom of a glass, then strawberries, then I mixed up some yoghurt, lemon juice, honey and freshly ground cardamom. It was good but not spectacular – and since nobody took pictures of it, it will have to remain undocumented further.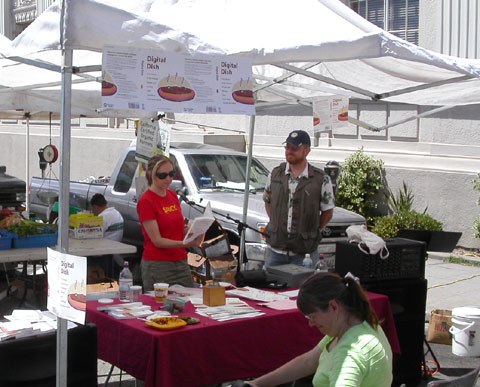 Just then was when one of Guy's suppliers slipped him a sealed bag of home-smoked and dried chipotle peppers. I want to know how he knows these people. Why don't people slide up to me and give me (say) two ribeye's from an artichoke and saltgrass fed angus cow?
Anyway, Guy upped the challenge level severely. He handed me the bag and asked what I could make with them and strawberries. Thinking VERY quickly I came up with a strawberry, smoked chipotle and mint salsa. I then had to run back to the car to get the mint I had fortunately picked from the garden that morning as well as more lemon (meyer lemon from a local tree). I passed the chipotles and the cardamom around for everyone to smell by the way – the aromas were explosive in their freshness and power.
Here's the recipe, as best as I remember it.
Strawberry, smoked chipotle and mint salsa
Chop one smoked chipotle pepper into as fine pieces as you can. If you are in a kitchen, it might be better to whiz it in a chopper attachment along with the lemon and mint. Instead I chopped it as fine as I could – these peppers were hard and dry, so very hard to cut small. Then I let it sit with the juice of a meyer lemon in a bowl while I prepared the rest. Next I roughly diced up half a punnet of strawberries. Again, on reflection, use the whole punnet. The berries went in with the lemon and chipotles as well as a big pinch of salt. I stirred it all up again to keep the spice circulating and to bring out the pepper flavor. Then I minced up the mint leaves (about a quarter cup – I would use half a cup or even a whole cup next time) and added them and let the whole salsa rest for five to ten minutes. We served it with some strange seaweedy crackers and a little greek yoghurt on the side. The salsa would be great with fish and good with chicken or turkey as well. The first taste is lemon with strawberries and mint, then you get strong smokiness, followed by a long, strong burn of heat that last for a long time in the mouth. It was very nice.
We had a great time talking and reading and soaking up the sun. More to come tomorrow.
After I got home to celebrate and because I didn't eat lunch, I went all out and made chicken thighs wrapped in bacon cooked with mushrooms and a little sorrel and oregano. It was a great end to a good day.