My own (unofficial) Paper Chef Entry
Spicey, Peachy Grilled Pork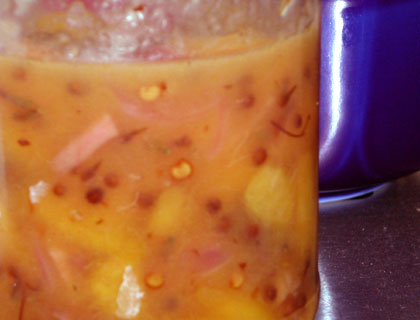 Get a pork roast of about three pounds – I used a tightly wrapped pork shoulder roast. marinate it (overnight if possible) in a ziploc bag containinga cup of peach juice and half a cup of lemon juice. Once marinated, crush (or grind up the following together into a rub: a tablespoon of fennel seeds, a tablespoon of corinader seeds, half a tablespoon of dried chilli flakes, a tablespoon of kosher salt. Rub this mixture carefully into all the surface of the pork. Now very finely chop the following: A tablespoon of lavender flowers (dried or fresh – mine were about halfway between the two – straight of the lavender in the garden, but dried out rather after two weeks of over 100 degree temperatures), a tablespoon of oregano (I used flowers since there were some on the oregano in the garden, but leaves or dried would be OK) and half a tablespoon of sage (fresh or dried). Roll the pork in this finely chopped mixture until thoroughly coated, adding a little olive oil to the meat if necessary to help the herbs hold on. Slow roast over a charcoal or wood fire (or in an oven) for five hours – if in an oven do this at 250 degrees. If using a fire, add things to make aromatic smoke – I used a branch of our California Pepperwood tree ( an extremely strong variety of Bay Laurel).
Serve with rice and Peach-Lavender Chutney.
Peach-Lavender Chutney
For the chutney, peel and slice up five fresh peaches – as local and fresh as you can get. In my case from Brentwood about 30 miles away. Meanwhile heat a little olive oil in a small pot on the stove and add a teaspoon of chilli flakes, a teaspoon of coriander seeds, a two-inch piece of fresh ginger finely dicedand cook until the seeds begin to brown. Then add a small red onion coarsely chopped and keep cooking until the onion starts to soften. At this point add a tablspoon of lavender flowers and take off the heat for a minute. Then add half a cup of peach juice and return to medium-low heat to simmer for fifteen minutes. Add about a teaspoon of salt to taste. Now take off the heat and stir in the peach slices and let sit in the stove in the pot to cool. Then transfer to a jar or bowl and refrigerate overnight or better, for three days, to let the flavors develop.
Everything in these dishes was local except the ginger, chilli flakes and possibly the fennel seeds.