The past week or so has been a bad one. New Orleans was one of my favorite cities for several reasons, but mostly because our visits there have all been for the right reasons and have been about people and relationships. Two weddings and a family vacation. Making new friends. Drinking good coffee. Eating beignets in the startling clear morning with rays cutting through the metal verandas in the French Quarter. Long, long drawn out home meals at the houses of friends of friends where we made new friends and celebrated old. Music and dancing and learning to love the street brass band and the new funked up sounds that the young kids are playing. Wandering through old stores and markets buying junk. Searching out the voodoo.
Oddly enough it wasn't about the food. We had our best meals at the cheapest dives. The fancier a place tried to be the less we liked it. We never made it to the really great places – we were on other people's time. All the best food was cooked at home. Michael's astonishing gumbo. Jambalaya that showed me what it could be. Seafood fresh from the Gulf. Greens and red beans and rice.
Apart from the home cooking, the best meal we had was the cheapest. Crawfish boil – hot from the pot at the Royal Street Grocery. Three dollars a pound and you eat in on newspaper at a table right there in the deli so close to the refrigerators you can reach up and grab another beer.
So I was happy to get the crayfish at the market the other day in preparation for this weekend and for eating in instead of going out. For celebrating the memories past from New Orleans and the memories yet to come. Because the reason it was a great city wasn't Mardi Gras and it wasn't Jazzfest and it wasn't Bourbon Street. It was the people and the place and the fact that this city was truly a cultural melting pot where black America really left a mark – for once more so than white America. In the heart of the Deep South and yet completely apart from it. Roll hundreds of years of relationships and people and abiding and enduring and living and laughing and loving and crying and music and complexity all into one. Roll them tight so they all get to know one another and understand one another even if they don't like one another. Then do it again and again and again like a rich puff pastry of life. That was New Orleans and that is what the people who really care, who feel it in their bones will build again.
So we got four families together. We spent the day building and recovering from a different disaster – the contractor who left the job unfinished, walking away with all the money. So we all pitched in and built the framing for the garage – all four walls and up. Then we came together and ate and remembered and talked and grew angry and sad and made bad jokes about worse people and brought out our stories of New Orleans and polished them a little. This is what we ate…
Crawfish Boil
Five pounds live crawfish
Eight pounds of potatoes
five pounds (ten ears) of corn
eight small onions
two lemons
one package old bay boiling spice
two tablespoons dried thyme
one head garlic
two tablespoons coriander seed
two tablespoons fennel seed
one fresh cayenne pepper
eight fresh bay leaves
two tablespoons black peppercorns
two tablespoons herbs de provence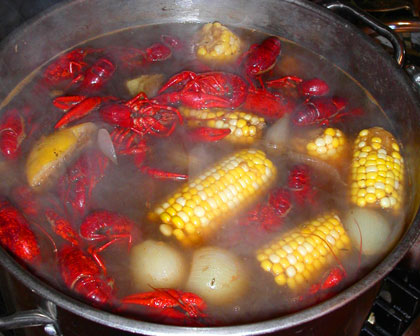 put about four gallons of water in your six gallon stockpot and bring it to a rolling boil (this will take at least an hour). Add all the spices and the two lemons cut into halves and the garlic. Let it boil for ten minutes. Add the potatoes cut into two inch pieces. Let it cook for 15 minutes. Add the crayfish and cook another 5 minutes. Add the corn and let it cook another 5 minutes and then turn it all off and let is sit until ready to serve HOT. (Don't let it sit too long).
This turned out yummy and spicey and tasty and really great except for one thing – the California crawfish we got weren't really that great. Kind of mild and not very meaty and a lot of work. But the potatoes and corn and onions were fantastic. Leftovers will become crawfish potato cakes…
Jambalaya
You'll want a big pot…
one and a half pounds of long grain rice
two 24 oz cans crushed organic tomatoes
two pounds red peppers (gypsy in this case)
two extremely large onions
eight cloves of garlic
one pound of very large frozen shrimp
one pound of sausages (chicken with chile and cilantro in this case)
one tablespoon hot smoked Spanish paprika
two tablespoons dried thyme
one tablespoon liquid smoke (I use an apple wood smoke)
two tablespoons tabasco sauce
two pints of beer
Dice the onions and fry gently until translucent. Crush the garlic, turn up the heat and add it. Dice the peppers and add them. Chop up the sausage and add it. Add the thyme and smoked paprika. Now stir in the rice until coated and then addd the cans of tomatoes. Keep the heat on high and add the beer, stirring frequently. Over the course of the next half an hour slowly add water as needed to keep the rice moist and a little liquid at the bottom of the pot. You want the dish to come out wetter than regular rice…
As it nears completion, stir in the liquid smoke and tabasco thoroughly. Once basically done, turn the heat down low and add the frozen shrimp and cover them with the rice and stir occasionally for another ten minutes.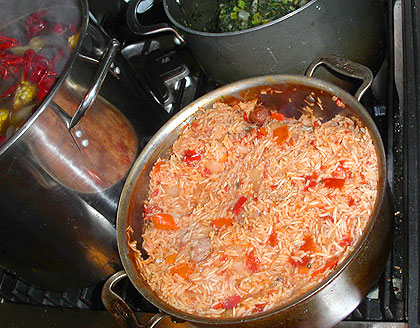 This was the best Jambalaya I have ever had bar none. I think the liquid smoke makes the difference. I could eat it every day for ever.
We also had greens and a roast chicken and a salad for the unadventurous diners present.