Paper Chef Entry from Surfin' Dave
Went for 'Broke', ended up 'Crash'-ed at Paper Chef 16
by Surfin' Dave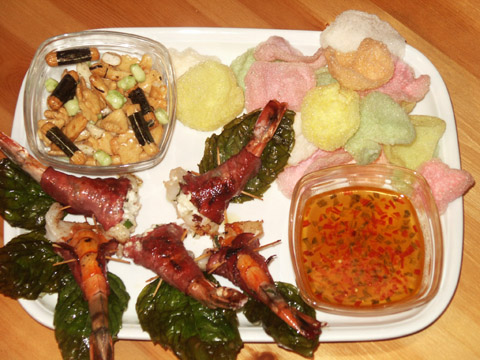 The Oscar 2006 Snack Plate – Grilled Prawns wrapped in Buffalo Prosciutto and stuffed with Basil Goat Cheese, with Jalapeno Dipping Sauce, Fried Basil Leaves, Shrimp Chips, Rice Crackers and Champagne
I wanted to design a recipe for the Paper Chef contest based on the Best Film winner. I envisioned sitting back with a platter of delicacies focused around the winning film, toasting its inevitable award with a chilled glass of Champagne. Everyone would be amazed at my uncanny ability to match the menu perfectly to the evening.
Since almost no one has seen any of the Oscar nominees for this year, myself included, my only hope was to go by the hype. And 'Brokeback' had it all. Hype, awards of every sort from around the world. The Oscar win for Best Film seemed like a formality.
So I gave some thought to a 'Brokeback Mountain' theme, with Prawns, Basil and Verjuice, round if possible for extra points. Not having actually seen the movie, mind you. But the themes seemed obvious enough – epic love story with a twist, Wyoming, cowboys, etc. Must be something here.
Wyoming would seem to be a great focal point for culinary themes – big, open, wild, rugged landscape. Spectacular parks and skiing. Oddly enough, unlike most other states, Wyoming does not have a state food. For example, Massachusetts has the corn muffin and Boston Creme Pie for state foods. And Pennsylvania has the chocolate chip cookie – really! You can look it up. Even South Dakota, apparently having a lot of German influence, has 'Kuchen' as its state cake. But not Wyoming – officially at least. But Wyoming does like its Buffalo. The Buffalo is everywhere – on flags, emblems, anything official. And Wyoming restaurants feature lots of Buffalo dishes. Mostly in the form of steaks – which are pretty hard to come by for anyone outside of Wyoming.
And anyways – Buffalo steak and prawns, with basil and verjuice? Hmmm. Maybe all ground up into a giant meatball to make it round? Doesn't seem like it would be on the same level with those creative Australians from Paper Chef 15.
But what is available – with some searching – is Buffalo Prosciutto. Prosciutto in general is one of my favorite things. And a great complementary flavor for prawns and basil.
Prosciutto is basically rich man's bacon. And the thing I like to do most with prawns and bacon is wrap 'em and grill 'em. The grilling fits well with the Wyoming/cowboy theme. Since they are held together with toothpicks – the snacking concept is there. And the rough Buffalo Prosciutto 'hide' covering the tender Prawn inside – seems almost like the perfect metaphor for the movie. Plus – the resulting wrap is roundish – sort of, actually more tubular – does that count? Maybe if I serve them on a round plate?
I have to admit to never having tried Verjuice. I've seen it often enough, and know just where to get it, but it always has seemed like a bit of a scam by the vintners to make a profit on what appears to be a byproduct of winemaking. But a bit of online research changed my mind enough that I was looking forward to trying it as a candidate for the acid component of some recipe.
Another thing that fits the Wyoming/cowboy theme is hot sauce – from Jalapenos. Since I was thinking finger food – I didn't want a glaze for the prawns, but more of dipping sauce – so a Jalapeno Jelly Sauce, using the Verjuice as the acid component, would be perfect.
Last step was to work in the basil. And I had already imagined a sort of filling for the prawns for inside the prosciutto wrapper. That got expanded a bit into a goat cheese basil stuffing.
So there it was – Grilled Prawns wrapped in Buffalo Prosciutto stuffed with Basil Goat Cheese, with Jalapeno Jelly Dipping Sauce. Fried basil leaves for garnish add an Oscar touch of class.
But munchies are more than just prawns. Even with goat cheese and prosciutto. Ya gotta have something crunchy. And even though potato chips might have been OK – shrimp chips seemed to match the theme better (and are always fun to make!). Colorful, festive, some are even pink! A few rice crackers to round it out (rice crackers have zero fat! How much better can you match the 'Brokeback' theme than that??). A flute of chilled Champagne.
I plated the results on a final four basket ball court shaped plate-just to try to work all possible angles here (but mostly because we couldn't get a nice looking arrangement on the round plates we tried).
The menu seemed perfectly matched to the evening!
Until the Best Film Oscar winner was announced. 'Crash' – who wudda thunk?
My raised Champagne glass slowly came back down. Someone asked "What is the deal with the pink chips, anyways?! And rice crackers? Is this all we're getting for dinner, or what?" Well, at least the prawns were all gone. Must have been good.
So congrats to 'Crash'! And even though 'Brokeback' didn't win, Ang Lee did (congrats to him as well!). And I suppose the cowboys are happy enough up on their mountain even without a Best Film Oscar. If you want to know who won't be winning next year – just let me know.